A conversation with Lindsay Pleskot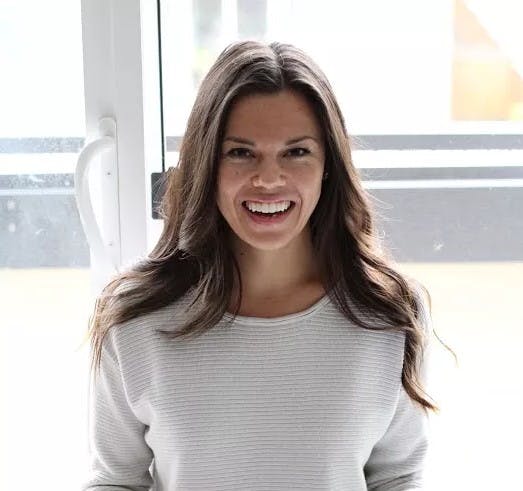 Tuesday 06.13.17
We have loved working with dietitian Lindsay Pleskot over the last little while to bring you our newest menu item, the Macro Bowl. We sat down with Lindsay earlier this week to chat more about her inspiration behind the bowl and learn more about her work.
Tell us about the MACRO BOWL! What inspired you?
It was pretty easy to work with your amazing ingredients and flavors. With this bowl we wanted to create a hearty, balanced meal that would be equally as delicious as it is nourishing. When it comes to recipe development I always have 3 goals
Combining ingredients that will compliment each other nutritionally- for example, The high vitamin C content in the purple cabbage helps our body absorb the plant-based iron in the wheat berries and greens.
Pairing flavors that will really highlight each other - the tanginess of the pickled cabbage paired with the saltiness of the feta and creaminess of the avocado all go so well with the crunch of the fresh veggies!
Balancing the meal to provide filling, satisfying and long lasting energy. This bowl is packed with fiber from the wheat berries, greens and colorful veggies which help balance blood sugars. The protein from the chicken or tempeh provides longer lasting energy and the healthy fats from the avocado add the satiety factor that give that extra enjoyment to meals. This bowl really is the complete package of flavor, nutrition and feel-good ingredients!
How did you get started as a dietician? You now have a career as both a dietitian and blogger. How do you juggle both?
I became interested in this field in high school. My first experience with a dietitian was when we had one come talk to our soccer team. At this time, to be honest I was pretty confused about nutrition. Growing up in the 90s there was such a backwards message about nutrition- fat free, sugar free, diet everything. It was all about what you shouldn't eat, and a lot of guilt inducing messages about food. I became fascinated with learning about what food could do for us rather than against us. Seeing food as fuel and learning how we could actually get more out of the foods we eat- including more enjoyment.
When we had someone from UBC come talk to us in grade 12 about the dietetics profession I knew this was for me. I didn't quite know at the time how it would all play out but I loved the idea of the power of nutrition to prevent chronic disease and also optimize how we can feel mentally, physically and even emotionally.
As far as juggling the different aspects of this career, it can definitely be a difficult balance at times. The great thing is though that it all sort of works together and each aspect teaches me about the other. My clients really help me understand what type of information is going to be the most helpful and inspiring to share on my blog, and my blog allows me a creative outlet to really help people turn the information and education about nutrition into practice. My goal is to provide recipes that are unintimidating and hopefully inspire people to get in the kitchen, no matter their cooking skills. I want people to feel excited about what they can create in the kitchen. We have so much beautiful and delicious food at our finger tips and there are so many ways to naturally highlight that.
What are your 3 favourite super foods?
That's a tough one! To me, superfoods aren't really one particular food. I pretty much consider all fruit and vegetables to be superfoods. But then there's also fish, packed with Omega-3s, or nuts and seeds for their anti-oxiodant and anti-inflammatory powers! I could go on and on… but to sum it up, I would probably pick avocado, salmon and actually purple cabbage is one of my favorites right now. It is so overlooked but there is so much you can do with it and it adds so much crunch, flavor and color to any dish!
What is your go to healthy snack?
I love making energy balls. Right now it's salted caramel. Otherwise I love a simple apple + piece of cheese.
Who are people in the nutrition field that you look up to?
There are a lot! I really love what Mckel Hill of Nutrition Stripped is doing. I also love following Tori Wesser of Fraiche nutrition , she has such a real, balanced and approachable take on delicious nutrition. Locally I also really admire Desiree Nielsen, she's always on top of current research and also makes nutrition really un-intimadating with great recipes and a holistic approach to wellness and nutrition.
What does balance mean to you?
To me balance is really about taking into consideration not just physical health but mental and emotional wellness as well because it's all interconnected. Whether this is with nutrition or other areas of your life I think it's important to take time to enjoy. With food, there is so much more to it than just fuel or nutrition. Food brings us together, helps us enjoy and understand other cultures and also pass on and share their experiences and traditions. It makes things interesting.
I don't really believe in "good" or "bad" foods. Definitely foods we want to eat more often and those we might have as more of a treat but one thing I am really passionate about is taking the guilt out of eating.
When it comes to food I think balance also means taking into consideration the balance of the environment and where our food comes from, who it impacts and how it impacts them.
Last but definitely not least, to me balance is about making sure to have time for myself and balance work, relationships with others and my relationship with myself. This is something that is always a work in progress but I think I've gotten a lot better over the years at finding the things that help me feel balanced. It's different for everyone and I really believe that if we pay attention and listen to our gut and what we need it will lead us in the right direction.
Thank you! You can follow along on Lindsay's latest work on her website and on instagram!