Meet the Maker Series 4.0 - Shira McDermott of GRAIN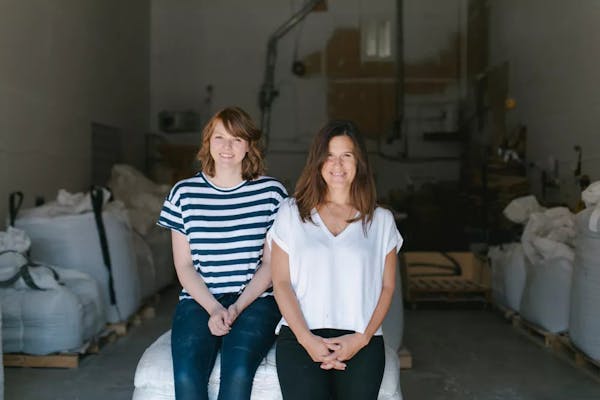 We sat down with Shira McDermott, co-founder of GRAIN, which sources delicious Canadian farm-direct dry goods including the lentils, wheatberries and quinoa we serve in the shop at Field & Social. Shira recently collaborated with us on the new Maple Tahini salad, which features Canadian grown quinoa and Shira's amazing maple tahini dressing. We chatted to learn more about the story behind GRAIN, her small business journey along with business partner Janna Bishop, and a few tips on what makes an incredible salad!
How did GRAIN come to be and what do you love about the work you do?
GRAIN was born out of my friendship with my business partner Janna, who — after several years of knowing her — shocked me one day with the news that her stepdad was a chickpea, wheat, and lentil farmer in Saskatchewan. As a lifelong vegetarian who relied on these foods heavily, I was shocked at the realization that I had never in my whole adult life had the opportunity to know where my grains and beans came from. It was such an eye-opener to me, especially after I'd had the chance to enjoy them — as the quality of the products coming off of Bob's farm was such a revelation. The quality and flavour of the chickpeas and lentils was unlike anything I'd ever had before. Little did I know at the time that Janna was nurturing the idea to start a company that offered better quality, traceable Canadian grains and beans, and several years later she shared the idea with me over a glass of wine. We started the company pretty much the next day.
Janna Bishop (left) and Shira McDermott (right) founders of GRAIN
We were thrilled to be collaborating with you on our newest salad, the MAPLE TAHINI, the dressing you developed is sodelicious it only made sense we called the salad by the name of the dressing! What inspired this dressing?
I make and eat a LOT of salads. For anyone who follows me on Instagram or knows my blog, salads are something I incorporate into daily life for me and my family — so I've had years of practice making salads, and as a result the dressings that go with them and make them delicious! I just can't eat bottled dressings, and I'd say my number one tip for inspiring healthier meals is to have a few homemade sauces and dressings in your rotation that you can whip up easily. Tahini is such a satisfying (and nutritious) ingredient and makes amazing creamy sauces, and I'm always tinkering with new and tasty ways to use it.
You are well known for your delicious and beautiful salads through your blog and Instagram account. What do you think makes the perfect salad?
Ah! The perfect salad! This is going to sound super corny, but honestly I'd say the first ingredient in anything has to be the person making it giving a sh*t. I love nothing more than the whole process of cooking, from the sourcing (Hey, farmers' market!) for inspiration, to the process of deciding what to make with my haul, to the actual food prep part — cutting, washing, etc. I find it highly cathartic and when working with thoughtfully sourced ingredients, it's almost impossible not to feel connected to the food you are preparing.
So, after caring, I'd say great ingredients, prepared well, and in the right ratios. Also, a great dressing — always!
GRAIN recently launched freshly milled flour – congratulations! When is your next flour shop or where might we be able to buy it?
We just completed our last FLOUR SHOP of the year at Main Street Brewing, where folks can buy freshly milled flour and our curated selection of baked foods made with our flour. We always encourage people to follow us on Instagram, or better yet, subscribe to our newsletter as we share recipes up to a few times a week, plus news about events like FLOUR SHOP.
We also ship our products directly to people's homes via our online store — since our flour will never be available in traditional grocery stores, due to the reality that the traditional (and lengthy) supply chain doesn't support our model of freshness. We mill all of our flour to order and encourage our customers to consume it fresh.
What advice do you have for someone starting a small business?
Get comfortable with discomfort and be patient. There is no easy way to succeed with any small business! It's a lot of work so not only do you have to really love what you are doing, but you have to have the stomach to handle it — and the faith that your patience and grit will pay off. I think there would be so may more amazing, game-changing businesses out there if folks could just find a way to hang on and trust their intuition.
Thank you, Shira! You can follow Shira on Instagram @shiramcd and GRAIN @eatgrain.