Meet the Maker Series 3.0 - Blue Heron Creamery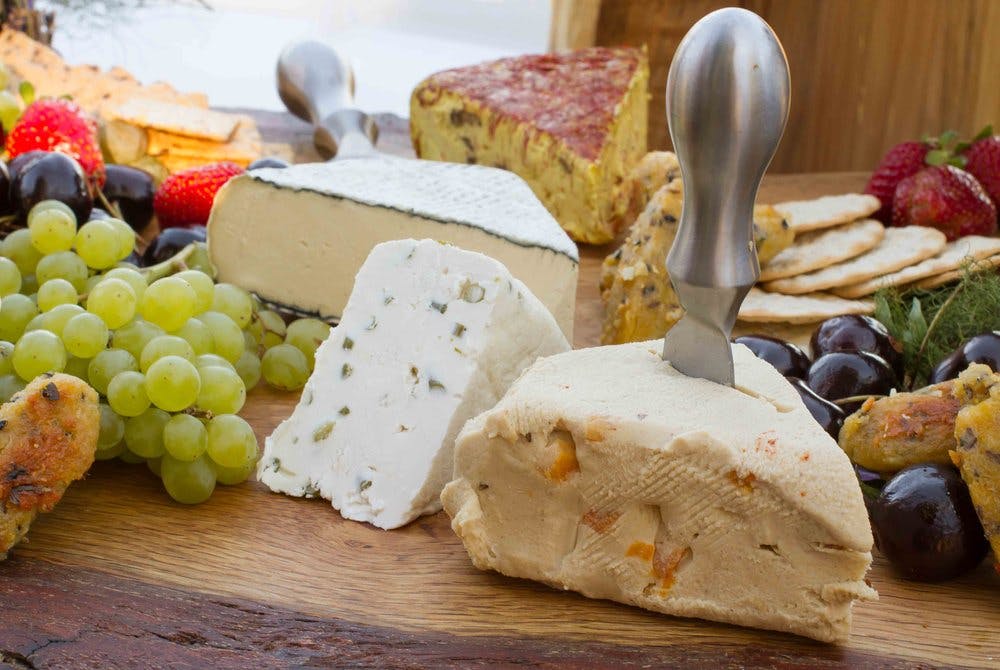 Thursday 08.31.17
Next up in our Meet the Maker series, we sat down with Karen McAthy of Blue Heron Creamery. Karen is truly a magician when it comes to delicious plant based cheese! This summer, Karen was named one of the top 10 Foodies of the year in the Western Living magazine awards.
How did Blue Heron Cheese get started?
By accident, essentially. Graze restaurant (where I had been executive chef) had closed, and I had moved on to Zend, but I kept getting private requests for cheeses and other foods. I began a small, private monthly 'subscription' release of the cheese, not anticipating that it would become anything. It didn't take long for the demand to exceed my ability to balance a full time employment for someone else and continue to make cheese.
By late spring of 2016, I decided to make it a formal thing, and began that process, and then was joined by Colin Medhurst of Feedlife, whom I've known since my Graze days. We were very fortunate for the support and time and efforts of two others, Zoe and Eden whom I still consider part of our family
BH is definitely still in its early phase of startup, with the pressure of demand meaning that we have layers of challenges occurring simultaneously, and a lot of moving pieces to juggle, but this is a mostly good thing, and we are forced to meet those challenges and embrace it all.
Tell us more about your vegan cheese and what goes into making it?
With there being no one distinct set of methods or principles for this sort of nebulous realm of vegan cheese, I focus on refining a particular methodology. For myself and for BH, my interest is primarily in making cultured and aged cheeses, and not those using starches or fillers, or ingredients to approximate or mimic traditional cheese.
I set out to understand the cultures I want to use, and what they like to do (how they interact with and alter the nutbases I want to culture), and have studied traditional cheesemaking practices to better understand aging, and culturing methods.
There is so much to learn and I love that about it. Understanding that bacteria do different things than yeasts and what that means for texture and flavour has become a particular passion of mine.
To make any one of the types of cheese we make, requires first making our medium (whether it be a coconut milk base, some combination of nut/seed milk), then applying cultures to it, to convert it to a fermented curd.
From there begins the draining, shaping, and drying/aging processes. This is all mostly time dependent, but is affected by changes in temperature and humidity. Cheesemaking, like kombucha, wine, fermentation is about understanding many variables, and how they interact.
What are some of your favorite ingredients and cheese pairings?
Some of my favourite ingredients? hmm... some I use in cheese, some I use in cooking. Sunchokes, sea asparagus, asparagus.
Specifically relevant to cheesemaking, I would say, kelp stout (we use this in one of our beer washed cheeses), caraway, pink peppercorn, smoked leaves for wrapping, figs..so many things.
I love suggesting cheese pairings, combining flavors and textures really helps some things come alive in a way that a single thing could not.
I love pairing our Beachwood cheese with certain wines for instance, or our blue cheese with figs and apples, and recently we had an occasion to have the fellas from Biota Fermentation use our blue cheese in a dressing for a fermented beet salad....which was unbelievably good.
Our caraway and pink peppercorn cheese (Shore) is so great on toasted rye with sauerkraut, grilled apple, and mustard.
Our Forest cheese (smoke and truffle), I love with the Field & Social market bowl, of course, but also love it on a flatbread with sauteed mushrooms and grilled asparagus, or melted into a creamy sauce for pasta or over grains.
We hear there is a retail shop in the works! Where can we buy your cheese outside of our shop?
Who said that?? wink, wink. Simply, yes there is. We'll be announcing more details soon. In the meantime, the best way to access the cheese is still through our pre-order service via our website. Typically we release our inventory 1-3 x a month, and send out an email to our email list first to announce the release details. If there are spots unclaimed after this, we open it to the public via social media.
We will also soon be available at Vegan Supply in Chinatown, and have several other retail partners in the pipeline. It is taking a bit of work to adjust the production and aging cycles to accommodate so many new partners, so we are working through those processes right now.
With a transition to a new space, it means that we will have to shift our efforts on that process, which will necessarily mean changes in availability. We are really, really looking forward to having wider spread retail access for folks because we know that it can be challenging for folks to make it out on specific dates to pick up pre-orders.
Congratulations on your book, The Art of Plant Based Cheesemaking! Could you tell us about what it was like to write a book?
The whole book thing was another one of those 'accidents'. I was first approached by an acquisitions editor from New Society Publishers in 2014, while presenting a bite for Graze at RIPE (the annual fundraising gala for the YLFMS -farmers market society).
I was a bit overwhelmed by the idea of writing a book, and so, the project was delayed for awhile. I had never set out to write a book, or had a particular desire to do one. The process recalled for me, memories and anxiety of writing in university, and was pretty intense in certain moments, full of doubt, and uncertainty, and a lot of 'imposter syndrome'.
It was valuable in so many ways, to work through processes and understand what and how I was trying to explain things. Identifying for whom I was writing and why knowing that was and is important. it was infinitely helpful for me with respect to developing content for the classes I teach, and even for coming to an understanding of why I even want to make cheese to begin with.
And, apparently I am 'nuts'....yes, bad pun intended... but I now want to get the second book (a more in depth follow up) ready, because it feels like the first one was really only an introduction, after all of that.
Thank you, Karen! You can find Blue Herson cheese in our Market Bowl at Field & Social and follow along on the Blue Heron Instagram account.